A few days ago, Time Magazine listed Nasi Lemak as one of the healthiest breakfast you can get in the world. Yes, Nasi Lemak, the dish in which the rice is cooked with coconut milk and pandan leaves, and comes with sides such as oily sambal, fried chicken/fish, fried egg, sliced cucumber, and all the other add-ons you can get if you want; like fish otah, ngoh hiang, bagedil, beef rendang, and more fried chicken. I think the only healthy item on the dish is the cucumber! But I'm not complaining. Nasi Lemak is one of my favourite foods in the world and whenever I'm far from home, it's one of the dishes that I'd greatly miss. Also, Singapore is home to many different Nasi Lemak variations. Some argue that the best ones you can find is at Changi, well we at HypeQuiva beg to differ. Yeah it's good but there are plenty more stalls in Singapore that have delicious Nasi Lemak. So here are 8 places with better Nasi Lemak that we think beats Changi's.
Chong Pang Nasi Lemak
Chong Pang Nasi Lemak is a popular hit with people looking for supper in the North. Located just beside Chong Pang Camp, finding a parking spot here is difficult, as you can't park along the road with cameras everywhere waiting to saman you. The nearest parking spots are opposite the row of shop houses where the HDBs are located. Other than that, the Nasi Lemak is fragrant and goes well with the sambal, and with plenty of dishes to choose from, you can definitely bank on having a full stomach after your meal. Oh and it's not as pricey as other places too, according to our boss.
Address: 447 Sembawang Rd, 758404
Opening Hours: 5pm-7am
Punggol Nasi Lemak
Also a popular place for supper, Punggol Nasi Lemak has three places for you to enjoy their Nasi Lemak. Like Chong Pang Nasi Lemak, they also have a wide variety of items that you can pick to add to your Nasi Lemak. From cuttlefish balls, to luncheon meat, to a wide array of vegetables, you won't know where to start. It's abit on the pricey side but hey, if the quality's good then no regrets right?!
Address: 371 Jalan Besar #01-01, Singapore 208998
Opening Hours: 12:00 pm – 11:00 pm (Closed on Thursday)
Address: 965 Upper Serangoon Rd S(534721)
                    238 Tanjong Katong Rd S(437026)
 Opening Hours: 5.30pm-2.30am
Pak Mandor Nasi Lemak
Located in a small coffee shop in Yishun, it's not a popular place in Singapore but I can swear that this is one of the best places to have your Nasi Lemak for your breakfast. The rice is green and fragrant and when you combine it with all the items in the dish, you get an explosion of flavours. Though it's not one of the major Nasi Lemak players in Singapore, people living in Yishun and Khatib will definitely know of this place. It's been at the same coffee shop since my primary school days and the taste never change. Oh it's very cheap also at $2.50 a plate. Add on all the items that they have and its $3.50. Yummersssss.
Address: Blk 645 Yishun Street 61 #01-320. Singapore 760645.
Opening Hours: No idea actually. Sometimes I go its closed sometimes I go its open. Best bet is to go in the morning.
Adam Road Nasi Lemak
Other than Changi Village, Adam Road has a few other popular shops selling Nasi Lemak. With queues snaking around the hawker centre, people have been believed to queue for an hour just for a plate. Of course there are other popular food stalls in the hawker centre but it seems that many just go there for the Nasi Lemak. Watch the video above by Mark Weins, a popular travel food vlogger, if you don't believe me. Oh watch his reactions during his taste! Hilarious! Two of the most popular stalls selling Nasi Lemak there are Selera Rasa and No.1 Adam's Nasi Lemak
Address: 2 Adam Road, Adam Road Food Centre, Singapore 289876
Hi Leskmi Nasi Lemak
Another shop selling Nasi Lemak in the heartlands, which many people don't know about, is Hi Leskmi Nasi Lemak in Whampoa Makan Place. During lunch hours, there will be a long queue of people waiting for their turn to get their hands on a plate. Well actually that's what being a Singaporean is about. Queuing for food. Okay moving on. Whampoa Nasi Lemak has a variety of sides you can choose from though not that many that you can't make up your mind about anything. The rice is nice and tender and the sambal is very aromatic. The rice is green, hinting at the pandan infusion with the coconut milk to give off that distinct Nasi Lemak flavour. All in all, a place worth finding for!
Address: Whampoa Makan Place, 90 Whampoa Drive #01-24 s320090
Opening Hours: 10am-10pm
Sajian Mak Dara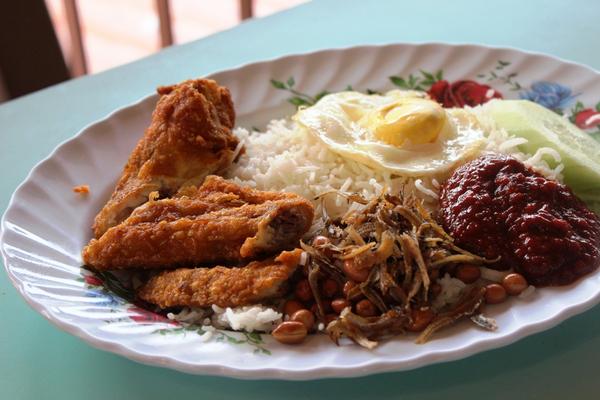 Sajian Mak Dara is actually our Editor's favourite go-to place for Nasi Lemak. She swears by it but nobody else in the office has actually heard of or tasted it. However, during a discussion, she said that she'd get it for us aaanndd we're still waiting for it. Never mind then, she's in New Zealand now having the time of her life but I digress. If there's anything to go by, most people gave rave reviews of the place and also state that, wait for it, there's a long queue for it (yes another long queue. Singaporeans will do almost anything for food I tell you). Does the taste justify the queue? You tell us.
Address: Geylang Serai Market & Food Centre, 1 Geylang Serai #02-108. Singapore 402001 
Opening Hours: 5am-4pm
Boon Lay Power Nasi Lemak
Boon Lay Power Nasi Lemak is my usual food haunt at night if I'm in the west and also when I was in NS a few years ago. Their rice is really fragrant and you can taste the coconut milk in it. The smell really makes your mouth water and the chicken is usually always hot when you get it because they always run out of chicken once fried. But it's the sambal, which gives it the extra kick to each mouthful. At night there will usually be a long queue (again) because of the popularity of it and also there're not many places that you can go for supper in the West.
Address: 221A/B Boon Lay Place #01-106 Boon Lay Place Food Village. Singapore 642221.
Opening Hours: 5pm-2am (Sometimes they're open for lunch. Other times no.)
Nasi Lemak Kukus
One of the few places to really have a good ambiance while eating your Nasi Lemak is Nasi Lemak Kukus, which means Steamed Coconut Rice. Nasi Lemak Kukus first made popular across the causeway in Johor Baru and landed in Singapore a couple of years ago by the owners of the shop. The main difference in the rice is the cooking process in which Nasi Lemak Kukus is steamed over water rather than in the water. For the full cooking recipe, I don't really know. You have to ask them for it actually. Oh and did I tell you that the rice here costs only $1 and it's free flow? You can also choose from two types of sambal, sweet or spicy. There are plenty of sides that you can choose from which will definitely make your meal much more satisfying, and pricey. Anyhoo, it definitely is one of the best places to get your Nasi Lemak craving fixed. You should also try the POWER Burger while you're there. It's homemade patties with their spice mix and unique sauce!
Address: 229 Selegie Rd, Singapore 188344 
Opening Hours: Monday-Saturday: 12pm-11pm
What do you think of the list? Do you agree with our choices or do you still think that Changi Village still has the best Nasi Lemak in Singapore? Let us know in the comments!
Featured Image: Credit