Singaporeans love their burgers. This is apparent at pasar malams where there are long queues for the Ramly Burger; and when there are no pasar malams nearby our estate, we get our burger cravings fixed at fast food restaurants like Macdonald's. However, since early last year, there has been a rise in the number of burger joints popping up all over the island offering gourmet burgers. This article aims to find five spots which has the biggest gourmet burgers in Singapore. So here are the five that I found. 
I Am Legend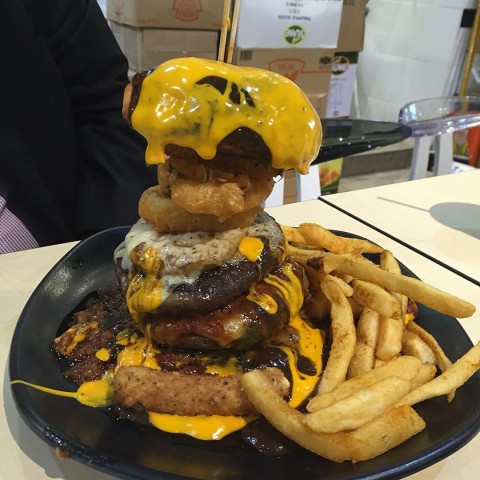 Being the only halal option in the list, I Am Legend sure doesn't disappoint. Their Messy Joe burger is one of the biggest and messiest ones that you can find here. It comes with two beef patties, cheese, onion rings, cheese sauce, and some other sauce, which I can't really describe. You really have to see the mess to believe it. It's so tall that satay sticks are needed to make it stand! At $20, it's big enough to be shared by two people.
1 Venture Avenue, Level 3 Big Box Food Court. Singapore 608521.
Roadhouse 
If you're feeling particularly hungry and feel like gobbling down a massive 1kg burger. You can jolly well head down to Roadhouse at Dempsey Road. Their Terminator Burger challenge consists of six Wagyu beef patties, six slices of cheese, bacon, jalapeño, beef chilli, and bun and then finished off with coleslaw and fries. If you're able to polish off everything served to you under 20 minutes, you get a free meal and a spot on the Roadhouse wall of fame. Oh and if you think that's an easy feat try the Red Hot Terminator challenge, it's the same thing added with spicy jalapeños and their hot sauce. Go on we DARE you. If you don't finish the burger, be prepared to cough up $60 for it. 
13 Dempsey Road, Singapore 249674
Fatboy's 
Fatboy is no stranger to the burger scene in Singapore. They are one of the most popular places that you can get a good burger in a chill out ambiance. Whenever I ask people for burger joint recommendations, one of the first few places that pops up is Fatboy's The Burger Bar. What's there not to like? Quality affordable burgers that fills you up right away. Easy to say, Singaporeans love Fatboy's. You can even make your own gourmet burger by choosing your own patty and ingredients. If you want something big on the menu, go for the Fat Basterd. A double beef patty between buns accompanied with cheddar cheese, chewy bacon, fried egg and bbq sauce. With a burger like that, who says money is everything?! Actually yes ah coz you still need to pay. Oh well.
Address
187 Upper Thomson Road. Singapore 574335
Opening Hours
The Butchers Club Burger 
The Butchers Club Burger is a newly launched burger joint in Singapore from Hong Kong. They pride themselves on "serving world class meats" and the dry aging process is something that is vital in their daily operations. Dry aging is a process whereby the meat is kept in a controlled environment so that they will cure overtime to bring out more flavour in the meat. At Butchers Club, you can be sure that everything made and sold is of the best quality. If you look at the regular menu, you'll realize that there's only one burger on the list. However, if you take out your phone and scan the QR code, it'll reveal a secret menu that you can order from. This way, The Butchers Club believes that there're more interaction between the staff and the patrons of the place which allows more socialising between humans. Once the secret menu is up, you can find the Double Happiness Burger which is the biggest burger on offer, and also the most expensive at $38. For that amount of money, you'll get a double patty, double cheese, and all the quintessential toppings sandwiched between two grilled cheese sandwiches. Go check it out!
Address
3A River Valley Road, #01-01B. Singapore 179020.
Opening Hours
De Burg 
Imagine a burger with a 200g Aus Wagyu patty, cheese, bacon, portobello mushroom, and your usual burger condiments crowned with the perfect burger bun. Well, that's what De Burg has to offer for the De Burg Decadance burger. Along with other burgers to choose from such as The Richmond, The Warrior's Snack and XXX Bacon Lover, De Burg has plenty to offer hungry patrons. People usually say that quantity doesn't equate to quality. But at De Burg, you can be sure that the quality is never compromised while they fill your tummy up. My mouth is actually salivating while writing this article. To really get your burger cravings fixed, come down to De Burg. You won't regret it! 
 2 Kallang Avenue, #02-15 CT Hub. Singapore 339407
With the weekends coming up, why not try a few of the places that we recommend and let us know how you find the burgers! Till the next one guys!
Head on to our Facebook page and give us a like for regular updates!
Featured Image: Credits